Verena Peters is the contact person for Postdocs and Junior Faculty at the TU Dortmund Graduate Center. In addition to individual consulting, she develops formats for information and networking for the target group.
Verena Peters studied English/American Studies and Comparative Literature at the Ruhr-Universität Bochum and earned her doctorate in English Studies at the University of Siegen. She then joined the graduate advisory service at the FernUniversität in Hagen, in parallel to working as a postdoc at the Bergische Universität in Wuppertal. In Hagen, she coordinated a mentoring program for young researchers and designed various event formats for doctoral students and postdocs.
Anke Kujawski coordinates the mentoring³ program for female early career researchers of the University Alliance Ruhr at the TU Dortmund University. The aim of the Research Academy Ruhr (RAR) program is to promote the potential and skills of the participating female researchers, to support them in active career planning and to prepare them for management tasks. The program is divided into subject areas; the TU Dortmund University coordinates the engineering sciences line. If you have any questions about the program, please contact Mrs Kujawski.
Anke Kujawski studied Slavic Studies, Eastern European and Medieval History at the Ruhr University Bochum. After working at the FernUniversität in Hagen, as a research consultant at the Ruhr University Bochum and as the coordinator of a university-wide mentoring program at the University of Paderborn, she has been working at the TU Dortmund in the mentoring³ program since 2015. She is trained in the field of systemic consulting and systemic coaching as well as in writing guidance.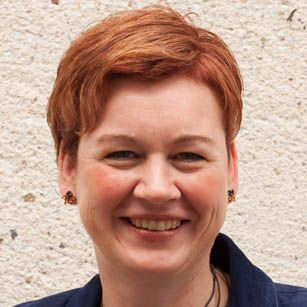 Nadine Finke-Micheel coordinates the Karriereforum for postdocs of the University Alliance Ruhr, who want to discuss their career planning in research, as well as the networking of doctoral researchers at TU Dortmund University. She is also happy to support master students and doctoral researchers in decision-making processes related to the topic of doctoral studies.
Nadine Finke-Micheel is a person-centered integrative coach (DACB) and studied social psychology and educational science at the Ruhr University Bochum before she co-initiated the project "MinTU – Mädchen in die TU Dortmund" as a research assistant in 2011. As a research manager, she was also in charge of the female.2.enterprises program in 2013-2015, which specifically prepares women for a career outside research.